45th meeting of the

July 1999, Oslo, Norway

This summer, the IETF meeting is being held in Oslo. Leaping at this opportunity to attend an IETF meeting without suffering the indignity of cattle-herding, airline style, we have arranged to leave our children, Ronan and Rhiannon, and other dependents, at home with my mother, while my wife and I travel to Oslo by road and North Sea car ferry.
Friday, 9th July
Our travels have taken us to Newcastle-upon-Tyne, England, from where we catch a car ferry to Gothenburg, Sweden, and then we drive the 200 miles or so to Oslo. After the IETF meeting, we drive another 200 miles or so to Kristiansand where we catch a return ferry back to Newcastle-upon-Tyne.

Newcastle recently featured in the UK national news for its deployment of a construction, loosely described as a "sculpture", called the Angel of the North. This artefact is positioned so that as one rounds a bend in one of the main roads into Newcastle, it comes into view, overlooking the traffic. In the not-so-distant past, Newcastle was a major centre for shipbuilding in the UK (I even worked for the British Ship Research Association in Newcastle for a while, many years ago). This heritage is apparent from the skyline as seen from the lower reaches of the River Tyne.

Several hours after leaving Newcastle, we end the day watching the sun go down over an uninterrupted horizon:

Saturday, 10th July
Waking up about 5AM ship's time (that's 4AM back at home), we can just about see land from our Cabin window (that will be Denmark), and the sea is smooth like a millpond. Where is this tempestuous North Sea we always seem to hear about in the news? The only coffee available on board at this time is from a vending machine. Oddly, given that all the other services aboard are priced in Swedish Kroner, this machine demands an English £1 coin to dispense its wares. I offered the hypothesis that only the English would care to drink vending machine coffee, but Mandy pointed out that most of the people queueing to use the machine were, in fact, Scandinavians.

This morning, we see our first fjord, as the ferry stops off in Kristiansand (near the southern tip of Norway) to discharge and pick up some travellers. Despite the northerly lattitude, the weather is scorching; with hardly a cloud in the sky the sun is very strong here and there is no wind to carry away any of the heat. The water of the fjord is almost mirror-calm, and contains hundreds of jellyfish (maybe dead jellyfish, as they don't seem to be moving at all).
Leaving Kristiansand we are back to open sea again, though we can from time to time see land of both Norway and Denmark. There is also a considerable amount of other shipping in these waters.
After another few hours at sea, we are in the approach to Gothenburg.
It takes an hour or so cruising up the approach to the Gota river to reach the city itself.
On arriving in Gothenburg, we were herded off the ferry into a big car park, and then had to wait for someone to open the gate. When they did so, we were on our way without anyone so much wanting to check that we even posessed a passport. We found the right road out of Gothenburg with surprisingly little difficulty. A couple of hours later we pulled into a campsite in Trollhattan, next to the Gota river.
Trollhattan is a town that has grown up around a combination of river locks and hydroelectric power. The entire flow of the Gota river is subordinated to the generation of electricity, apart from a trivially small amount of water used to feed a flight of four enormous locks that carry shipping between Lake Vanern and Gothenburg. An old flight of locks is now disused. At one time, the river passed over a series of falls in a narrow rift valley. Now, one sees a strong flowing river taken through a series of sluices at the top of the valley, to emerge at the bottom. The old falls are strangely lacking in water.
<<<link to images of the locks above>>>
Sunday, 11th July
Today saw us travelling to a coastal nature reserve to the north of Gothenburg. The fjords are not so dramatic as those of Norway (which we have yet to see), but the stretches of water dotted with islands make for some beautiful scenery. The road we followed was carried over a series of bridges linking several islands.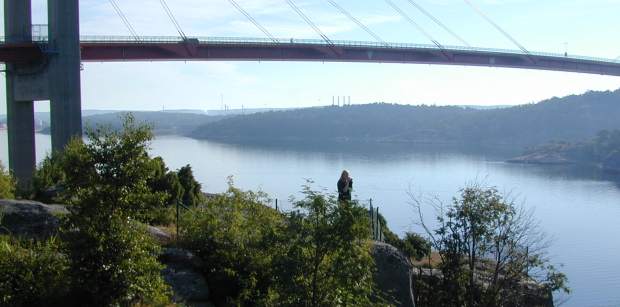 Crossing the Swedish-Norwegian border was a pretty uncomplicated affair. We simply drove by a "nothing to declare" customs sign, They didn't even want to look at our passports. In fact, the only person to ask for our passports on this trip has been a ferry marshall in Newcastle.
The trip from the border up to Oslo was unspectacular, and we arrived about 4:30. I was just in time to drop into the IETF reception and catch up with a few working group colleagues with whom I normally work though e-mail, at a contintent's remove.
Monday, 12th July
What I was expecting to be a quiet day turned out to be rather busy. After couple of early working group meetings, I spent a couple of hours getting myself hooked into the conference's wireless LAN (which in turn provides high speed access to the Internet). This arrangement allows the curious spectacle to develop of a considerable number of attendees being spread around the hotel, usually camped out by a power socket, conducting various communications across the world and across the room from their laptop computers.

I understand there are about 1700 conference attendees; ususally, IETF meetings outside the USA attract significantly fewer attendees than normal, but not this one.
Tuesday, 13th July
Today was expected to busy for me and did not disappoint, with Internet fax and content negotiation working groups running almost back-to-back. Much of the spare time between formal meetings was filled in with corridor-discussions about various works-in-progress. Apparently, there is a move to coordinate the content negotiation work with W3C (in addition to the existing ITU coordination via Internet fax).

This evening was the social event for the conference, hosted by Ericsson (makers of mobile phones among many other things). The event was held in the grounds of the Kon-tiki, Fram and other maritime museums, sited on the waterfront of Oslo Fjord a short distance from the city centre. As part of this event, particpants would enjoy several modes of transport: a short walk across central Oslo to the waterfront, a boat trip to the "island" where the museums are located and finally (after much food, drink and conversation) a bus back to the hotel. The social event itself provided a variety of diversions to suit a wide range of personal preferences: the Kon-tiki, Fram and Norwegian maritime museums were open to all attendees for part of the evening; different forms of live music (I rather liked the jazz quartet playing on the waterfront); lots of buffet food and also a more formally seated eating area; and lots of space, both indoors and out, to sit and converse.
Wednesday, 14th July
I did not expect today to be busy, but in the event it was as busy as the preceding days, with follow-on informal meetings arising from the Internet fax, VPIM and content negotiation meetings. The only chance to relax was a brief period in the afternoon, between rainshowers, when Mandy and I met up for a drink in the conference hotel bar, from where the view is quite specacular:

We've just had a discussion with a member of bar staff in the IETF conference hotel. They've never seen anything like the behaviour of the IETF contingent that has taken over the hotel. Apparently, normal rules applied to liquor-serving premises in Norway are quite strict, and various behaviours (such as sleeping in the bar, or walking around with one's beer) can result in loss of the server's liquor licence, but they have had a special dispensation from the authorities for this event. We were told that one group, asked not to put their feet on the chairs and tables, responded "Is this a European thing?".
The evening was occupied by the IETF plenary session, which I thought was less lively than usual. This session was concluded by the historic (we are told) inaugural signing of the Memorandum of Understanding for ICANN's Protocol Supporting Organization by ICANN, IETF, ITU, W3C and ETSI. I understand this is a key step in handing over certain key functions that have been performed by IANA to the new Internet governing body (ICANN), and formalizing the IETF's relationship with the new body. (Earlier in the day, in the POISSON working group session, there had been some lively debate concerning ETSI should be one of the initial signatories.)
Thursday, 15th July
Having no sessions or meetings this morning, Mandy and I went to view <???> park in Oslo which is filled with various sculptures of people engaged in all sorts of unusual activities. A sort-of 3-dimensional version of Muybridge, one might say.

<<pictures>>
---
Updated: 10 July 1999